The Coast Guard in Iloilo & Guimaras DOES NOT enforce the wearing of life jackets.
It is required by MARINA (Maritime Industry Authority)'s Memorandum Circular No. 08 Series of 2008 which states that "ALL passengers shall be required to wear life jackets from the time of departure and during the entire voyage…"
Seven persons died and two others remained missing after a motorboat capsized in the waters between Iloilo and Guimaras on Sunday afternoon. The Inquirer.net reports the Philippine Coast Guard is investigating the incident including compliance with safety measures especially the compulsory wearing by passengers and crew members of life jackets.
My friend, Larry Abilla, seen above, the owner and operator of the Tawash, was one of the victims of this tragedy
Commodore Leopoldo Laroya, Coast Guard Western Visayas commander, said initial investigation showed that the motorboat Tawash was on its way to Jordan pier in Guimaras from Iloilo City when it was repeatedly hit by a squall, locally known as "pugada" or the sudden and strong gust of wind, which lifted and forced the outrigger boat to capsize.
My wife and I were sitting outside in our front porch in Guimaras when the storm suddenly smacked us with blustery winds and a torrential downpour. Thank God we were not on the boat that day. There is no doubt in my mind that if we had, I would be a dead man. I cannot swim. I cannot even float.
Thirty-two other passengers and crew members were rescued by Coast Guard personnel and passing boats about 1.6 kilometers from the port of Iloilo.
Lt. Junior Grade Edison Diaz, commander of the Coast Guard Iloilo station, identified the fatalities as Cora Ganila; Mark Mata, 9; Luke Shile Mata, 6; Christine Daryle Vasquez, and Mary Ann Gallego.
Two of the boat's five crew members identified as Larry Abilla, 59, and Ruben Gania, 54, also died.
Gallego died about 2 a.m. on Monday at St. Paul's Hospital Iloilo while the other fatalities were pronounced dead on arrival in various hospitals, according to Diaz.
Search and rescue teams were still looking for passengers CJ Gamotea and Shine Mata, 30, mother of siblings Mark and Luke Shile.
Passengers identified as Cherry Silverio and Chris John Cepada remained confined at the hospital as of Monday morning. Several survivors stayed overnight at the Coast Guard station in Iloilo.
Diaz said the boat left Iloilo at 4:13 p.m. and was a mile away when it was hit by a squall. Boat captain Donald Galotera tried to maneuver the boat as it was hit by strong winds and huge waves but a gust of wind suddenly lifted and capsized the boat at 4:23 p.m.
Do you see anyone wearing a life jacket? My friend Allen and I weren't
Several of the passengers were not listed on the manifest, which resulted to varying initial accounts of the number of passengers, those rescued and missing.
Why discrepancies on the manifest, which ALL PASSENGERS ARE REQUIRED TO SIGN? Because all passengers do not sign the official log before they board a vessel. One can have someone else sign you in, but some people do not bother with entering their name on the log.
The Philippine Coast Guard (PCG) in Iloilo and the Guimaras Provincial Disaster Risk Reduction and Management Council (PDRRMC) reported that 41 persons were onboard MB Tawash – 36 passengers and five crew members.
The Philippine Coast Guard manifesto only listed 28 passengers.
The crew of each pump boat is supposed to ensure their log is complete but some boat operators are more interested in taking off and making as many runs possible in one day as they can.
A few years ago the manifest, if incomplete, would be passed over to passengers on the boat. The guilty parties would then be asked to sign the log before the vessel would take off. But I haven't seen that done for a couple of years now.
Diaz said 41 persons, including 36 passengers and five crew members, were aboard the boat, which could load 53 passengers.
No typhoon signal was raised over Iloilo and Guimaras but the areas were covered by a gale warning.
Laroya said the motorboats plying between Iloilo and Guimaras were allowed to travel on Sunday under a Coast Guard guideline allowing travel in areas with short distance travel and in plain sight like the Iloilo Strait.
But the number of passengers was limited to 75 percent of its maximum capacity and travel was limited from 6 a.m. to 6 p.m.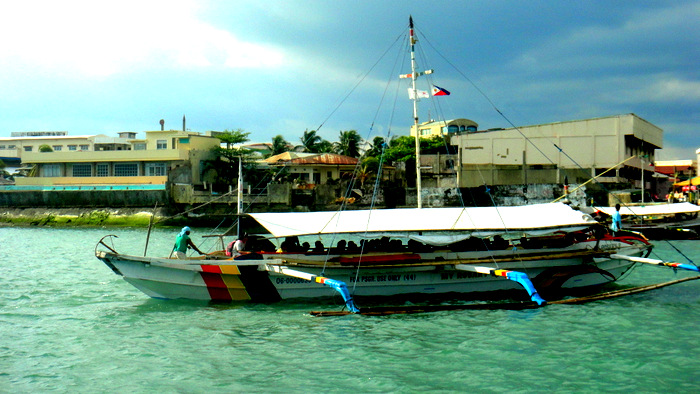 The Coast Guard investigation would also focus on why some of the passengers were not wearing life jackets.
It should come as no surprise to Commodore Laroya as to why some of the passengers were not wearing life jackets.
The Coast Guard in Iloilo & Guimaras DOES NOT enforce the wearing of life jackets.
The crew and captains of these motorized banca boats DO NOT enforce the wearing of life jackets, either.
How do I know? I've lived in Guimaras over six years now. I've gone on hundreds of boat rides between the Jordan Wharf in Guimaras and the two docks in Iloilo, Ortiz and Parola. In fact, my wife and I recently used the Tawash, the boat that capsized, for a "special trip" to haul some plants my wife purchased at Robinsons in Iloilo.
In the past five years I'VE NEVER SEEN ANYONE, NEITHER A COAST GUARD OFFICER, OR BOAT CREW MEMBER, telling any passenger boarding a vessel that they are required by law to wear a life jacket.
I will stand before Almighty God Himself and tell you that this statement is the absolute truth.
While the Coast Guard is not always present at any of these docks, I have seen them standing by many times, watching passengers board the banca boats and never saying a word to anyone about wearing a life jacket.
Laroya said passengers are required to wear life jackets before the boats leave the port but these could have been removed during transit.
"Some passengers prefer not to wear them especially during warm weather," he told the Inquirer.
True, passengers, myself included, do not like to wear them, especially during the warm weather. With an average humidity of 86%, wrapping a life jacket around your body is only going to make you hotter. But look at the consequences if you don't.
Now when I first retired to the Philippines in July 2009, we were required to wear the life jackets and that mandate was strictly enforced. But when the next rainy season hit, none of the banca boats were requiring anyone to don the life jackets after boarding. Why? I don't know.
I suspect that over the next few weeks the life jacket regulation will be enforced but I would bet a million dollar winning lottery ticket that things will revert back to what they were before this tragic event. And that, in itself, is a tragedy.
(Source: Inquirer.net)