Six people dead: pump boat from Iloilo to Guimaras capsizes!
UPDATE ON THE LATEST SEA TRAGEDY
Tragic news coming to our house this morning as our brother-in-law Joery reports that six people drowned yesterday afternoon at Parola Wharf in Iloilo.
According to Philippine Coast Guard, the M/B Tawash, bound for Jordan in Guimaras, had just left Parola Wharf in Iloilo City  yesterday afternoon around 4 pm when it capsized due to strong winds and powerful waves.
My wife and I have been on the Tawash dozens of times in the past six years and personally know the captain and owner of the Tawash, Larry. Larry and his crew moved us from Guimaras to Iloilo several years ago.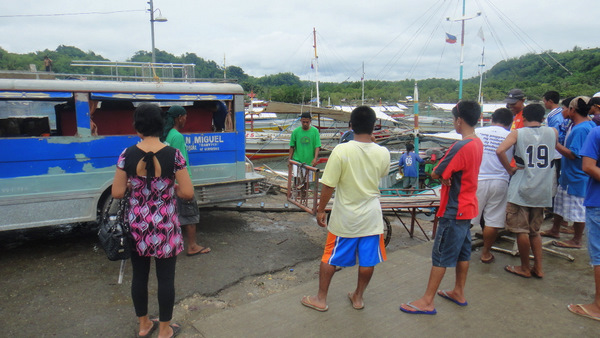 Loading the Tawash for our move a few years ago
I certainly would have been among the dead if we had been on that boat yesterday.
I cannot swim at all. We have not been required to wear lifejackets for years on any of the pump boats. I don't even think a life jacket would have saved my life.
Initial information from authorities revealed that there were 33 passengers on board the boat. As of posting, 23 have already been rescued at the time ABS-CBN reported this story. But my brother-in-law reports that six people are confirmed dead. A tarp that covers the vessel had collapsed and trapped passengers who were unable to swim back to the boat.
Search and rescue operations for the remaining passengers are ongoing.
Sea vessels were not allowed to travel Sunday morning due to a gale warning raised over Iloilo but they were allowed to leave ports by 12:30 p.m. once the warning was lifted. I don't know why the boats were allowed to leave. We had tremendous winds all day yesterday in Guimaras.
PAGASA has warned against sea travel over the seaboard of Luzon and Visayas due to risky conditions.
Update: The Manila Bulletin reports 33 survivors and reports six fatalities along with the following:
The craft, which was headed for Jordan, Guimaras, was just five minutes off the terminal when it capsized after being hit by strong winds, Office of Civil Defense Region 6 (Western Visayas) director Rosario Cabrera said.
The boat was carrying 31 passengers and eight crewmen during the time of the mishap.
Responding Coast Guard units immediately pulled out of the water 33 survivors.
IT IS WITH GREAT SADNESS THAT I REPORT THAT THE FOLLOWING PASSENGERS AND CREW MEMBERS ARE REPORTED AS DEAD:
Seven people were killed and two others went missing after a motorboat capsized between Iloilo and Guimaras Sunday afternoon, the Coast Guard said. Lt. Junior Grade Edison Diaz, commander of the Coast Guard Iloilo station, identified the fatalities as Cora G Mark Mata, 9; Luke Shile Mata, 6; Christine Daryle Vasquez and Mary Ann Gallego, all passengers of the ill-fated M/B Tawash. Two crew members: Larry Abilla, 59, and Ruben Gania, 54, also died, Diaz said. (report from Philippine News)
Larry was our friend, a devout Mormon with five daughters. An extremely friendly man, always smiling. My wife went to school with him. As far as we can determine at this point, the crew member listed as dead, is Larry. This information has been collaborated, however, not officially, by other sources.
With Larry, who always called me his "amigo."
I will post more updates on this story as more details become available.