My Sainted Patient Wife and I were taking another walk on the wild side of the Philippines. I've been exceptionally lazy recently and haven't even  been taking my daily walks. But after diplomatic suggestions from my asawa, I decided it would be in my best interests to resume this exercise routine.
When the exercise behavior of 1,200 study participants' exercise was tracked over 20 years, those who showed higher heart rate and increased diastolic blood pressure (both signs of lower fitness levels) had MRIs that showed smaller brain volumes in their 60s. Truth be told, I think I've had a smaller brain volume long before my 60s.
Smaller brain volumes have been associated with age related memory loss and Alzheimer's. Participants who exercised during the study, showed improved decision making, cognition, balance and executive functioning such as planning.
Is fitness tied to lower instances of dementia? That is yet to be determined. So whether you're training for a specific goals or simply to stay fit, exercise has more benefits than just physical and may be the key to a healthy mind as well! (Source: Core Principles)
Listen, anything I can do to possibly stave off the onset of Alzheimer's should be in my wheelhouse. Seeing the way this devastating disease has ravaged my father-in-law the past few years,  has motivated me to start walking again (along with the aforementioned nudge from my wife.)
Look, you don't need a big fancy house to live in the Philippines. Yeah, we have one, but it's a luxury. A home like the one seen above during our recent walk, works just fine. And why do we have a four-bedroom home with four CR's, Comfort Rooms?
Because my wife wanted one. And since she grew up in the middle of the jungle in the Philippines, with no electricity, no running water and resided with eight other siblings, I felt she deserved a big house. Why not? Happy wife. Happy life.
Here's a peek at a local church we spotted near our local barangay headquarters. We've never seen this house of worship before but we have been attending Mass again at The Trappist Monastery in Guimaras every Sunday now.
The Brother preached a fiery sermon on Hell the first Sunday we came. Whew! Powerful message. I thought I was back at my Independent Pentecostal Assembly of God Church back in Illinois.
If The Lord was trying to tell me something, I got the message.
Outside of the local church was a basketball court with a cow standing nearby. Come on, how many times have you seen a basketball court with a cow back in the States? Only in the Philippines.
The view along our walk on the wild side.
A young mother, nanay, was walking her little boy, ahead of us. My wife stopped and talked to the lady for a moment and we both greeted the tot with a hearty "Good morning!" The lad gave me that look of astonishment I often receive from the little ones here.
After we arrived back home, my wife decided to move our brother-in-law Joery's cow, Hulk.  The cow was in the sun and my spouse wanted to move him into the shade and into  a patch of fresh grass. Hulk is one of wife's favorites, he provides her with a steady stream of cow poop she uses for fertilizer. I dish out my own B.S but my spouse is not able to use that for her plants. Too bad, there's plenty of it to go around.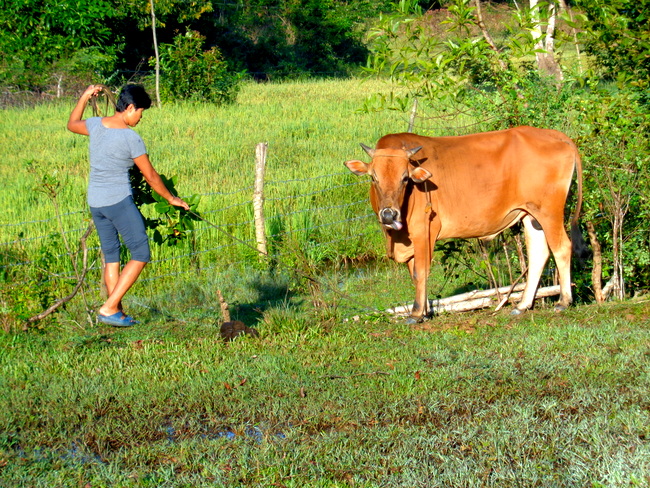 My asawa inspired me to do some actual work as I picked up some branches to bring over to our dirty kitchen. We use this wood to cook with and to boil water for our coffee in the morning. It supplements the two LP stoves we have.
This is a rare shot, Pilgrim. I doubt you'll see another one like it anytime soon. But the walks on the "wild side"? They will continue.