At my advanced age, 63, I really shouldn't be taking a walk on the wild side of the Philippines. But that's exactly what I did the other morning.
My lovely asawa and I, along with our crew, moved into our new domicile in the archipelago this past July.  Regular readers of Philippines Plus might recall that I used to take hourly walks on an almost daily basis, starting with our days at "The Compound," and then at Savannah Subdivision, the most overrated enclave in Iloilo, and finally at "The Farm."
I've only taken a few 15-minute treks since our arrival and have become, if possible, even more lazy than ever. As I've often said on this website, since my retirement to the Philippines, I've excelled on doing nothing. Please, the time I spend (or don't spend) on this website, sitting on my butt with a monitor in front of my fat face, certainly doesn't qualify as "work" in any sense of the word.
So when I finally decided to explore the wild side of the Philippines and head off in a different direction from the main entrance of our rural home, I did not know what to expect.
My asawa accompanied me on this adventure and we were delighted to meet our local fish mongers who had stopped a few minutes from our home. We purchased two kilos of fish, at 140 pesos a kilo, 3.00 US Dollars, along with a kilo of fresh shrimp for 200 pesos a kilo, 4.40 USD.
Neither one of us had taken any money with us (yeah, I know that as a foreigner you're supposed to carry your passport with you at all times, but seriously, aside from leaving NAIA in Manila, when did anyone ever check your passport here?)
But having no cash on hand was not a problem as the fish guys merely delivered the fish to our home so we could continue our walk, and stopped by later in the afternoon for payment.
Yes, Virginia, they knew where we lived. Everyone knows where the local "kano" resides.
The Filipino gentleman in white in the picture above, checking out today's catch from nearby Iloilo, also had a beautiful turkey in his front yard and allowed me to take the gobbler's picture. Watch out, Tom Turkey, Thanksgiving is just around the corner.
And we're proud to announce our first guests (aside from relatives) at our new home in the Philippines, Papa Duck and his Amazing Asawa Anne!
The cordial couple will be joining us for our first celebration in the Philippines of an American Thanksgiving and fresh turkey, not the one depicted below, will be on the menu.
We have an Australian expat friend who lives nearby and is fattening up a couple of his turkeys for our Thanksgiving. At 500 pesos each, 11 US Dollars,  we've got quite a bargain. Frozen Butterballs are available at the SM City Supermarket but I think that some of them have been there since last Thanksgiving. We know of one Brit on the island that spent over 5,000 pesos for a frozen turkey! Too pricey for us. We'll go with the fresh Tom's.
It's rice harvest time in our island province in the Philippines. There were a ton of rice fields along the road as we took our walk that morning. We've heard the sound of rice threshers humming the past few days as many of our neighbors have begun harvesting their rice crop.
In the Philippines it's possible to have three harvests a year but due to the lack of rain, many farmers will only be able to have two harvests.
My wife noted that the rice field above could have been damaged by recent heavy rains and winds we had the other day. Though we did get a good rain that day, Pagasa, the Philippine national weather service,  expects the dry condition to intensify our current El Niño from "weak" to "moderate" by August and the weather phenomenon may persist until December and then gradually weaken in early 2016. (Source: The Manila Times)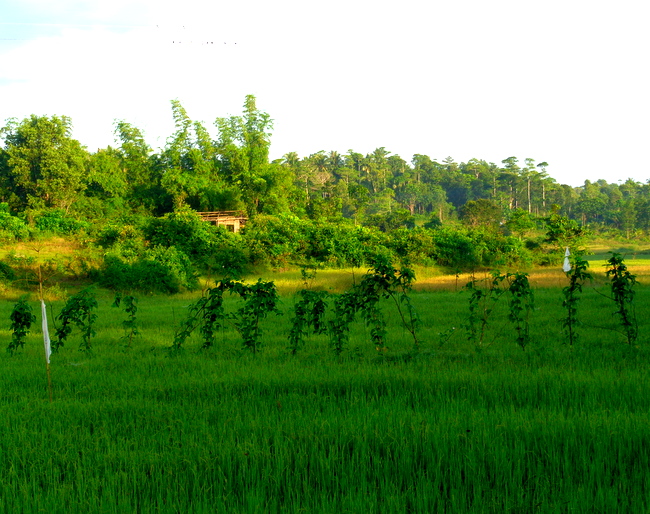 One neighbor took advantage of the wet conditions in their rice field to plant long beans in the center of it. That way you don't have to go out and water the beans every day.
I'll have more on our walk on the wild side in the Philippines coming up. We encounter "spider boys" and other oddities in the Philippines on our adventure. Be sure to stay tuned.