Gather around the campfire, boys and girls, as I tell the tale of an Expat Success Story in Guimaras, the Philippines: Paul and Janeth Toplis. It's the remarkable report of a bloke from a small island in the U.K. who recently celebrated 25 years of wedded bliss with his Filipina sweetheart. That in itself is an impressive achievement.
That's my own lovely asawa in the photo above posing alongside some banana trees on the 13-hectare estate. Paul's better half, Janeth, was in nearby Iloilo City shopping.  Paul, who did not really care to be in the picture, and I, are both fortunate to have attractive wives that are extremely better looking than either one of us.
Frankly, pictures of Paul or yours truly are not going to drive more visitors to this website.
It was a grey day with a fine drizzle that spat across our faces as we walked the property. Paul, the gracious guide, was not expecting us. We have never visited the couple's property but both wives communicated before we headed out and Janeth gave the OK.
Paul, like many husbands, was kept out of the loop but thankfully did not let loose his five canines on us, plus one trespassing neighbor dog, when we arrived in our Ford Ranger.
Paul and Janeth purchased their property in the Philippines over 10 years ago. They started with only 15 trees and at one time had over 40,000 timber trees alone!

The photo above reveals one of the many citrus trees on the premises. An expat friend had even brought over a lime tree which was promptly planted and yields a goodly sum of fresh limes, not the tiny calamansi lime often found throughout the Philippines.
The estate has an abundant amount of pleasingly-plump pineapples, seen below. When  Paul first started planting on their property he was purchasing his pineapple plants from Wonders Farm in Guimaras.  Paul's pineapple production has so increased that he is now supplying Wonders Farm with pineapple plants.
The following picture shows a pomelo tree, which produces a fruit similar in size and taste to a grapefruit.
There are massive amounts of banana trees on their real estate with numerous varieties. Paul generously gave us some plantings for our new home in the Philippines. My wife planted them the next day
A look at just a few of the banana trees planted on the property.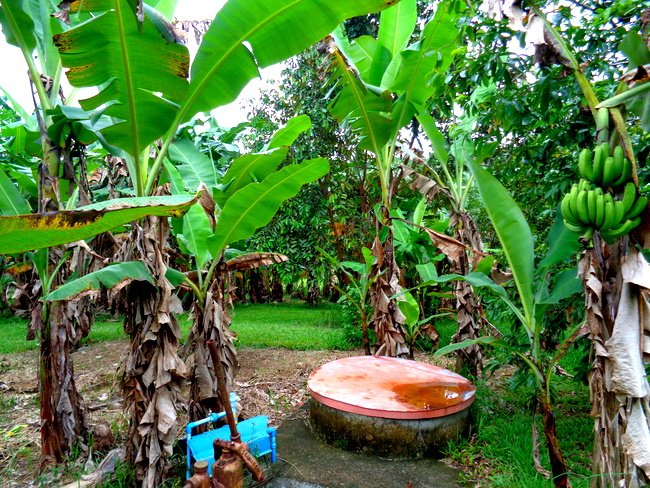 My wife and I both were impressed with the organization of the coconut trees Paul and Janeth have planted. Everything is plotted out in a straight line as seen in the next two pictures.
As noted earlier, there once were 40,000 timber trees planted on the estate. Paul has since thinned the herd to around 10,000. Paul remarked to me that the germilima tree seen below is almost ready to harvest. This tree has a soft wood and is very popular with builders in this area.
Paul and Janeth produce over 7.8 tons of rice every year which they sell.


The rice fields
My wife and I want to thank Paul for taking time out from his busy schedule and showing us their property. Thanks, also, to Janeth, for grooming such a successful expat in the Philippines.  Paul and I are both about the same age but he has a much better work ethic than I have. Regular readers of Philippines Plus know that I excel in doing nothing. My British friend is the exact opposite.