Since my recent kidney stone attack and the subsequent ultrasound which revealed I also had a fatty liver, Australian aid which continues to improve roads in Guimaras, the island province I reside on, is greatly benefiting me as well. The highway projects are providing me  with an excellent pathway to do my daily early morning walks. I've managed to get down to 187 pounds and have lost 16 pounds in five weeks.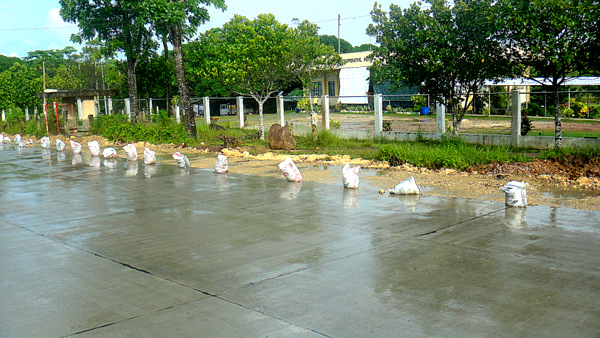 The Provincial Government of Guimaras (PGG) is one of the recipients of the Philippines Provincial Roads Management Facility (PRMF) with funding source from the Government of Australia through the Australian Agency for International Development (AusAID). PRMF, a five-year development initiative of the Governments of Australia and the Philippines, which aims to improve provincial government infrastructure. (Source: Discover Guimaras.)
The five-year, Php 4.3 billion (A$100 million), Provincial Road Management Facility helps provincial governments upgrade and then maintain their core road network in provinces in Mindanao and the Visayas. The program started in seven partner provinces: Bohol, Guimaras, Agusan del Sur, Surigao del Norte, Bukidnon, Misamis Oriental and Misamis Occidental.
The ceremonial launch of the program kicked off in February 2012 according to the Australian Embassy website.
As you can tell by the photo above, the road crews, which are paid 240 pesos a day, 5.50 US Dollars, with no snacks or meals provided, are working with the latest equipment. I even saw a concrete truck rumbling down the highway a few weeks ago and managed to catch a shot of it today while walking over to "The Compound" to visit our little niece and nephew.
Of course the construction is wreaking havoc on nearby businesses and residents as pedestrians bridges, such as the ones shown in the pictures above and below, are a bit difficult for an old geezer American expat like myself to navigate. However, since my recently diagnosed "mild" fatty liver condition still does not allow any imbibing of adult beverages, I at least can cross these bridges without falling down in the trenches below.
I enjoy walking inside the pathway, see lead photo,  which is blocked by concrete bags filled with rock and dirt until the barriers are removed once the concrete has cured.  Also, since half of the road is being done in alternating sections adjacent to the main highway, I have a raised path to walk on, see following picture,  which any speeding tricycle or jeepney would have a difficult time jumping onto without serious damage to their vehicle.
So thanks to the Australian government for their generous aid to the Philippines, especially to the mango island province of Guimaras.  Their contributions have greatly improved the conditions of locals and foreigners alike and is greatly appreciated.