While traveling on the banca boat to Panay Island the other day to do our monthly grocery shopping, visiting the local PhilHealth office was on our agenda. But what happened to PhilHealth in Iloilo City? After a visit to the local Bureau of Immigration, my asawa and I had time to renew our subscription with the the Philippine Health Insurance Corporation which had expired at the end of last year but my wife couldn't find the office.
We could have saved some money during my recent kidney attack episode if I hadn't been so lax in renewing our membership. Actually, it's my spouse's membership; since I'm married to a Filipina I'm also listed as a dependent at no additional cost. I guess I've grown too accustomed to "Filipino Time" and never got around to it.
It only cost us 1,000 pesos a year, approximately 23 US Dollars, for coverage for both of us. The fees have more than doubled but at 2,000 pesos a year, it's still a bargain.
We had signed up for PhilHealth over two years ago at their location behind the Robinsons Mall. After hopping off a jeepney and walking around for 30 minutes my wife reports that the office must no longer be there. She can't find it. She asks a man nearby manning a parking lot and he informs her that the main office has indeed moved.
"I thought you knew where it was at!" I exclaimed.
"But that was so many years ago that we went. How did I know that it moved?" my asawa responded.
"I could have checked it on the internet if you would have said something," I replied, shirt soaked in sweat from the humidity and the aimless walking around.
"You should have checked it!  "You're always on the computer!" she retorted as she stormed off.
My angry asawa went to the Robinsons entrance. It was closed but I knew that PhilHealth had an office on the third floor. My wife said nothing to me, as is her custom when she is mad, and took off.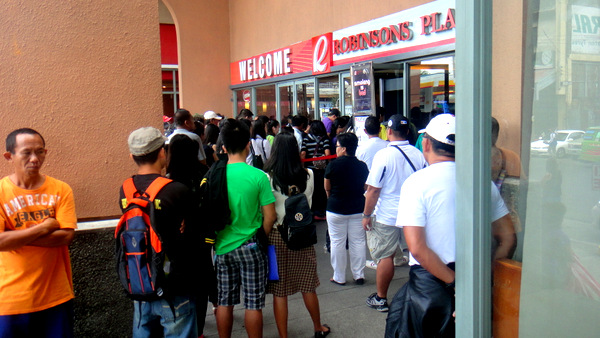 We're briskly walking through downtown Iloilo City and have now wasted an hour. We have to pay our Globe Tattoo WiFi bill at the office at SM Delgado but it doesn't open for another 30 minutes. My wife stops at a CPT Pharmacy to pick up a kilo of chlorine that our caretaker uses to treat our well water. Still no word from the asawa.
And here's the kicker: We both knew that PhilHealth has a new office at Robinsons and we had to make a trip to Robinsons anyway to pay another mobile phone bill, Sun, plus my wife was going to get her hair cut at the David's Salon anyway. But I didn't question her. I've been married almost 15 years and knew better.
We continue walking towards the direction of the SM Delgado Mall. It's only 8:45 am but it's muggy and warm. I had forgotten my Harley Davison bandanna  that I usually carry in my back pocket to towel off my profuse perspiration. Sweat was pouring off of me faster than a Kim Kardashian divorce. Still no word from my asawa. 
Suddenly, I hear a female voice call out my name. This stops my spouse dead in her tracks.
It was Fearless Frank from Florida's girlfriend, Giselle! We had seen her in two years and we only stopped for a minute for a brief chat. It was good to see her and now we know the location of the store she is working at, we will have to make it a point to drop by when we have more time.
We took care of business at SM Delgado and went over to Robinsons to the PhilHealth counter. Only took a total of about 15 minutes to renew our PhilHealth. We paid until the end of December 2015. 1,200 pesos for the remainder of this year and P,2000 for 2015.
For that price it makes sense to purchase this healthcare plan which has a wide range of benefits and coverage that may prove to be beneficial in the future, though I am not anxious to return to the hospital anytime soon.