Rotating brownouts have hit our island province of Guimaras. We just endured a 10 hour power outage yesterday and have been experiencing major brownouts from three to six hours every other day since mid-July. Thanks to an email from a fellow expat on the island, I have finally discovered the source of these outages.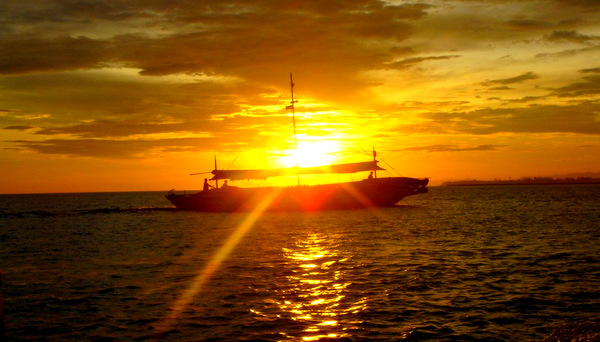 A wayward ship anchor damaged a submarine cable that carries electricity to Guimaras, bringing rotating brownouts to residents of the island province.
Lt. Cmdr Dominador Senador III, head of the Coast Guard station in Iloilo province, said the anchor of cargo vessel MV Ocean Prosperity could have drifted or was dragged by the ship as it tried to make a brief stop in waters between Guimaras and Iloilo.
The damage to the submarine cable cut off power being supplied by  Guimaras Electric Cooperative Inc., forcing the power utility to implement rotating brownouts.
The Coast Guard has grounded the vessel and is investigating the case.
The power firm Green Core Geothermal Inc. supplies almost all of the province's electricity requirements, which reach 5 megawatts during peak hours, through the submarine cable.
Two diesel plants owned by the firms Trans Asia Oil and Energy Development Corp. provide backup supply during peak hours from 5 p.m. to 10 p.m. They, however, could supply only 2.7 MW. (Source: Inquirer.net)
Our power company, Guimelco, has posted a schedule for the rotating brownouts. Our area is scheduled for one every other day from 6 am to 11 pm.
Fortunately, it's rainy season and we've been having some downpours which have cooled us off. And although we shut off the air con a couple of months ago, I still need a fan to sleep comfortably at night.
But at least the lack of power hasn't been causing me too much stress, except for yesterday, although my blood pressure is improving and yesterday read 111/76, the lowest it's been in years. I'm down to 196 pounds and only have 11 more to reach my goal of 185. The fact that I can't sit in front of the television or computer monitor all day probably helps.
Any comments left will have to be moderated when we have power. I might have to adjust my sleep schedule and work on the website at night and sleep during the day. But with Lolo running wild recently, and even attacking me with a bamboo cane, that might be hard to do.
No word on when the cable might be restored. It's more fun in the Philippines. Really?