Living in the Philippines: Five year review. With our fifth year in paradise approaching, I thought this would be a good time to look back at some previous posts regarding past reviews and see how my viewpoint has changed since those earlier days in "paradise." Here's part one of a two part series.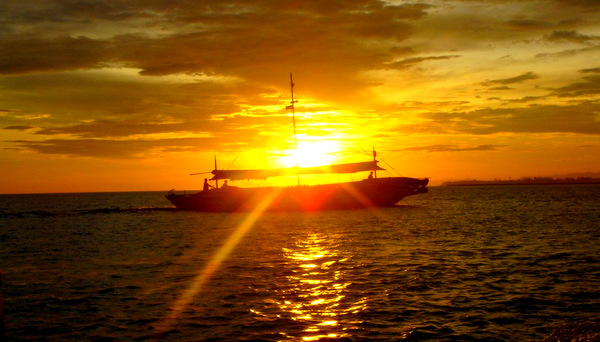 Sunset on the Iloilo Strait. One of my all time favorite pictures that I've taken in the past five years. 
For my new readers, I'm a 62-year-old old fart geezer American expat from Central Illinois that quit the "rat race" after almost 30 years "working" for the telecommunications giant AT&T (I usually refer to myself as an "old geezer" but added the "fart" per an earlier suggestion from the much younger, Papa Duck, a regular commentator on Philippines Plus.)
I put "working" in quotation marks because during my last two years at the company, I was waiting for retirement and doing just enough to collect my paycheck.  I had an extremely boring job in the billing department those last years and absolutely hated it. When my retirement savings account more than doubled after I turned 55, I jumped on the chance to leave the company at age 57 with full benefits. Aside from the day I married my beautiful Filipina wife (who has stuck with me for over 14 years), the day I signed my retirement papers was one of the happiest days in my life.
The Kano, The Asawa, and Ms. Robin D. Diallo,  formerly of the US Embassy in Manila
So here's a look back starting with a list of  "My Pitfalls in Paradise" post that I did after one year in "paradise," things I absolutely hated about living in the Philippines:
Living with my mother-in-law and relatives.
The heat and humidity.
Lack of privacy.
Rude Filipinos that butt in line.
Clothes that don't fit me.
No toilet paper in the Comfort Rooms.
Beggars
Sales clerks at the Ace Hardware at SM City in Iloilo that will follow you everywhere.
High cost of electronics.
No British sitcoms.
Brownouts!
My mother-in-law, to the absolute joy of my brother-in-law who was living with "The Giant Lizard Killer," along with my wife's sister, has gone to Manila to live with her oldest son.  I can relate. Why can't we adopt a tradition that many Native American societies once embraced?
My mother-in-law preparing a dish at "The Compound," our first residence in the Philippines
After the wedding night, Native American newlyweds took up residence near the bride's parents and found it necessary for the young couple to have a separate dwelling, for there was a rigidly enforced taboo forbidding any contact between the bride's mother and her son-in-law. Commonly called the "mother-in-law taboo," this custom no doubt eliminated much strife in Native families. Some tribes, such as the Crow, still practice this custom today. (Source: Bella Online: The Voice of Women.)
Today, we've traded in my mother-in-law for my father-in-law, lolo, grandfather, who is suffering from dementia. Yesterday, Lolo tried to attend the funeral of a relative who was already dead. I was downstairs when our maid, Mera, announced; "Uncle Dave, Tita needs you!" 
My first reaction was that something had happened to my wife but I quickly realized that my father-in-law was making an escape attempt. I rushed outside, and without even changing my inside slippers to my outside ones, ran to where Lolo was, struggling with my asawa and threatening to punch her.
The healer laid hands on Lolo. It didn't help
My wife and I were able to subdue him and walk him back inside our house. For his own safety and protection, he was locked in his room and fed throughout the day, but in his mind, he was going to that funeral no matter what. He called my wife "thick-skinned" and to save face, said that since he had already made a donation (to the dead man's family) he didn't have to attend the services now.
It's a daily challenge dealing with my father-in-law. Though we know he's not in his right mind and cannot control the voices in his head, it still gets frustrating at times. Lolo often sings and talks to dead people and to his sons who are in Manila and Palawan, Luis, who has passed away.  But at least the Fernando Poe, Jr., mystery has been cleared up. FPJ, one of the all time greatest action stars of the Philippines, is always addressed by Lolo during every meal time and even in Lolo's prayers.
"Fernando, Fernando!" my 82-year-old father-in-law would loudly proclaim dozens of times during the day. But it's not Fernando Poe, Jr., that he has been addressing; my wife and I always assumed it was.
It was not until the other day that my asawa heard her father add a last name to Fernando. Fernando Gange, one of my father-in-law's relatives that had passed away years ago. I always wondered why a man that didn't even have electricity until a few years ago and never went to a movie would even be aware of Fernando Poe, Jr., though Lolo does know who Manny Pacquiao is.
The heat and the humidity really used to bother me when I first arrived in the Philippines. My favorite season back in the Midwest was fall; I hated the heat and humidity of summer.  April and May, the summer months in the archipelago are still tough for me, but I've become more acclimated.
In fact, we only run our air con during the summer months now as opposed to Savannah Subdivision in Iloilo where it was on every night due to the brick oven home construction so common there.
Lack of privacy is no longer an issue for me. The headquarters of "Philippines Plus" is located in our spacious rental home, "The Farm," and is situated in the basement; I have one whole section all to myself.  I can "work" on this website uninterrupted and with our new maid, Mera, taking care of the bulk of the housework; I have even less to do around here than ever before.
The Kano and Papa Duck, along with my sparkling spouse and Asawa Anne at "The Farm"
Rude Filipinos that butt in line? They're still here but since we don't live in Iloilo City anymore I don't get around that much. My wife does all of the local shopping in Guimaras and usually buys our pan de sal at the local bakeshop so there's not much occasion for anyone to jump in front of me in line.  But don't worry, if they did, they still don't get around me even if I am 62 years of age.
Clothes that don't fit me? Where did that come from? Sure, I buy 3x or 2x shirts from SM, the Max brand, but since starting my daily walking routine, I've lost about six pounds and I am not having a problem with my clothes fitting. I know what stores have "Filipino" sizes and which have "American," so clothes not fitting me are no big deal anymore.
No toilet paper in the Comfort Rooms? No problem. I use the CR before I go anywhere and avoid eating at questionable joints.
Beggars? They're still around but not much of a problem in Guimaras where we live. Here's the latest story regarding panhandlers in "paradise."
Sales clerks at Ace Hardware that follow me around (they used to have sell a certain amount of merchandise daily or they would have to work unpaid overtime.) Again, no problem. We rarely go there anymore and if anyone follows me I walk out.
High cost of electronics? Not really an issue now. I can buy a new dual SIM cell phone for 600 pesos, less than 14 bucks. I can buy a Samsung 60″ LED television, with a free air conditioner unit as an extra perk, for P70,000, 1600 USD, at about the same price as what I could buy it for in the States.  And at the Best Buy website, they don't kick in an extra AC.
No British sitcoms? I can watch all of them that I want on my Samsung Galaxy Tablet via YouTube with my new Tattoo Globe WiFi. In fact, the videos are seamless and are just like watching them on the TV. When I had my Smart Broad Ban service, the quality of the videos weren't very good and difficult to watch.
Brownouts! When we first arrived in Guimaras, the frequent brownouts, power outages, were maddening and a source of constant irritation. After our move to Savannah Subdivision, where we resided for two years, we averaged around 25 brownouts a month, some lasting 12 hours, even worse than Guimaras. Thankfully, since our move back to the island province last October, the power outages have been greatly reduced.
Next Up: How my Third Year Review stacks up against living five years in the Philippines.