The "Manila Mob" recently stormed through the island province of Guimaras, home of the Manggahan Festival, and the sweetest mangoes found in the Philippines.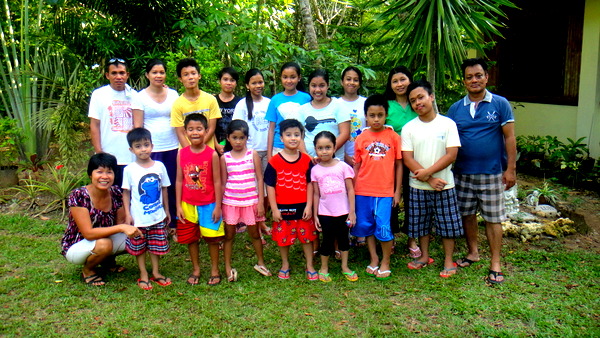 While the "Manila Mafia" did no major damage in Mango Land during their recent stay, the crew, my wife's sister, brother-in-law, and six children, did test the patience of this 62-year-old geezer at times.  I'm used to the general peace and quiet of our "Fortress of Solitude," "The Farm."
Well, "peace and quiet" is a relative term. Even in our own "pocket of paradise." My father-in-law's dementia is worsening. Two recent attempted attacks on me, one with a kitchen knife, and another with a hefty rock from our front yard, does tend to stir things up around here.
Lolo was disarmed by my wife, niece Michelle, and me before he could plunge the knife into my chest. Though 81 years old, my father-in-law seems to gain a burst of adrenalin when he initiates his attacks.
If not for the meds sent to us from our good friend, Murray the Kiwi, Lolo's condition would be even worse. A BIG THANKS to Murray for his continued support and help in this matter.  There is no hope for my father-in-law's dementia to improve, but at least the medications help keep him in check.
Stir in a visit from our two nieces and nephew from Guimaras, who also stayed at "The Farm" along with the Manila crew, and we had 16 people in the house.
A terrible case of what I believe to be food poisoning early Easter morning added to my stress level. Manila Mob makes move in Mango Land? The situation was worsening.
I could barely lift my head to take a sip of the Blue Bolt Gatorade my faithful asawa had purchased for me at 3 am Easter morning, along with some medicine to stop my constant vomiting, which lasted for three hours straight. Our faithful niece Michelle, who was staying over that night, went with her beloved tita (aunt) to make the 25-minute trek to the drugstore.
I was severely dehydrated and sicker than I had been for years. I had no energy. I could barely get up to use the CR, which I did quite frequently. On Easter morning I became delusional and called out the demon I thought was tormenting me with this illness and told it to "hit the road" in the name of Jesus.
My asawa walked in and wondered who I was talking to. I told her. She poured some more Gatorade down my gullet and gave me some more medications.
But I somehow crawled out of bed on Monday morning and got ready for a road trip to one of the many dazzling white sand beaches of Guimaras (more on that visit in an upcoming post.)
But I did manage to take some photos of our four visiting nephews and two nieces and or other visitors before I became ill.
(From the lead picture) Back row left, Joery, Alida, Sherwin, Shaina, our new maid, Mera, Den Den, Michelle,  niece Jennette from Manila,, and her Mom, my sister-in-law, Emily.
Front row left, my lovely asawa, nephew Geon from Manila, Jorreal, JalAmiel, Nephew Hennie from Manila, niece "Baby," from Manila, and her brothers JoJo and Gerwin. I'm sure I've misspelled some of the names. I barely remember my own.
That's "Joe," my brother-in-law on the far right in the front row. Joe is a salesman for a building supply company in the Metro Manila area and travels all over the Metro area.
I don't envy his job. He told me many years ago that his goal is to retire "in the province" and to get out of the stress of living in the big city. I can relate. Regular readers of Philippines Plus know that was one of my major motivations to retire at the age of 57 and move to the Philippines. I simply quit the rat race five years ago and haven't looked back since.
Brother-in-law Joery was at the big party we had for the Manila Crew showing off his new Yamaha motorcycle. He's doing installment billing on it which will cost him a total of P72,000, 1600 US Dollars,  but could have bought it for P54,00, 1200 USD,  cash outright.
Of course my spouse and niece, JalAmiel, had to check out the new ride. That's part of the Manila Mob playing a ball game. The boys enjoyed playing basketball in the morning during their ten day stay.  Their Papa, "Joe," always joined in the games.
The kids were having lots of fun and it was the first time our nieces and nephews from Guimaras got to meet their cousins from Manila. I was glad to see them out in the yard instead of glued in front of the television watching "Adventure Time" on the Cartoon Network.
Next up is a visit to one of many beach resorts in Guimaras where the crew also ends up island hopping. I was still weak from my food poisoning bout (spaghetti sauce that had been left out all day on a very hot day) and didn't down one single bottle of San Miguel Pale Pilsen at the beach.
Here's a final look at the crew, which actually live in Caloocan City in Manila, where my wife and I tied the knot at City Hall back in January 2000. After I trained the kids to properly close the front screen door all the way, we got along fine. They're a very polite, well-disciplined group, ranging in age from 6 to 16.  We plan to visit them in Manila later this year as I obtain my Exit Clearance Certificate to visit America in September.