"It's More Fun in the Philippines" is the official slogan of the Philippine Tourism Board. And there's no place in Guimaras that can match a birthday party celebration like at Cousin Emma's place. This is where the party really gets started.
My wife and I, along with friends and relatives and employees of Cousin Emma's Jade Market and Hollow Block Factory, were invited to a birthday celebration. The party was in honor of Emma's Mother, Nanay, who had passed away over two years ago.
It also turned out that one of my asawa's numerous relatives; a young man named Eric, also shared the same birth date and turned 21. Eric is also employed at The Jade Market.
Cousin Emma and her always friendly husband, Danit, reside in a beautiful home in a subdivision located on the outskirts of San Miguel, Jordan, Guimaras. I love the spiral staircase shown in the picture above which leads to a terrace. We plan to incorporate such a metal staircase (purchased in nearby Iloilo City) when we build our new home on the mango province late next year.
Emma has a neighbor who has a large two story home that butts right up against their property. Instead of barbed wire on the top of the wall separating the two properties, you'll note that broken shards of glass has been embedded into the cement on the top of the wall. This is a security measure I've seen previously in other locations throughout nearby Iloilo City on Panay Island.
That's our nephew Jorealle and niece JalAmiel sitting next to my beautiful wife and me. It was great weather for a party. Clouds moved in and out, and no rain spoiled the celebration.
The rainy season ended in November and we should have a month or two of cooler weather with high's around 30 Celsius and low's near 22 or 23 Celsius until late February and March ushers in the start of summer (that's about 86 degrees down to 72 or 73 degrees Fahrenheit at night for you fellow Americans out there.)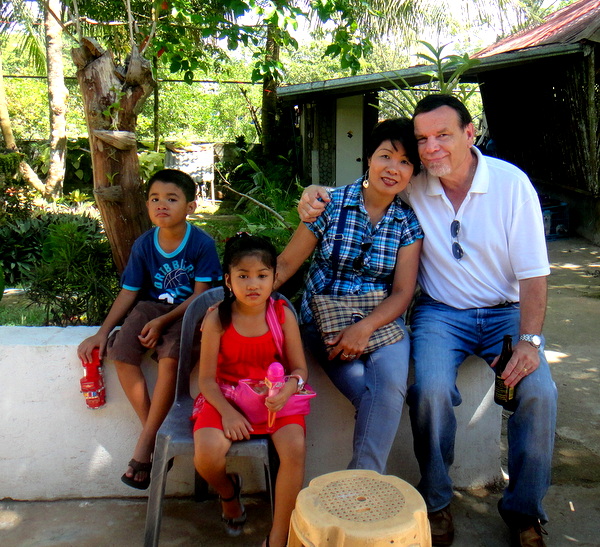 Brother-in-law Joery was helping to blow up the balloons as Lolo looks on in amusement.
A karaoke machine was rented for the birthday bash at a cost of 500 pesos, a little over 11 US Dollars, for the day. We had to insert five peso coins to select a song at first until the owner of the machine arrived on her motorcycle to fix the problem.
I sang a few songs before the party games started. Those expats that have heard me sing know that I usually belt out "Paint It Black" by the Rolling Stones as my first selection. That day was no exception.
By the time the Red Horse chugging contest began I had consumed four bottles of Red Horse already. While I didn't finish first, at least I was consoled by the fact that I didn't finish in last place. And by the time I had polished off that fifth bottle, I really didn't care. That's the birthday boy, Eric, seated to my right.
With my big mouth, the apple eating contest was more up my alley. But I lost that competition, also.
By the time the birthday boy Eric was invited to dance, I had went over my Red Horse limit and believe I was on bottle #7 at this point. That's way too much beer for me, and I promise you I felt the result of that overindulgence when I arrived home later in the day. As you can tell by the next picture, I'm certainly feeling no pain as I mug for the camera. That's Cousin Emma looking on.
I sang one last song with Eric on the karoake as I polished off my last bottle of Red Horse, number, #8. I vaguely remember the ride back home to "The Farm," courtesy of Emma and Danit's son, Joe Michael.
I recall my poor asawa dragging me to the shower and hosing me down. After that, I crawled into bed and soundly slept for eight or nine hours. It was a great party. And yes, I had way too much to drink. But remember, it's more fun in the Philippines. But moderation is the key. Take it from me. A Red Horse Hangover is no fun at all.