I jokingly refer to my wife's home and property in Guimaras as "The Compound." We now reside at "The Farm" (I have a thing about naming the places we live at. We spent 2 ½ years at my asawa's residence on the mango province at her property before moving to Iloilo and living there for two years before moving back to Guimaras. I didn't have a name for our residence in our subdivision near Iloilo City.) The following picture was taken in front of brother-in-law Joery's sari sari store, located in the front yard of "The Compound," and features some of the group that attended a recent Christmas party there.
Joery has added ABS-CBN mobile from Globe as one the latest additions to his retail establishment where customers can get "loads" for their cell phones. Anyone that has ever visited the Philippines knows that sari sari stores are as common as flight delays at NAIA. A shop owner has to offer a variety of services to stand out from the multitude of other sari sari shops in the neighborhood (there are two other stores just down the road from his place.)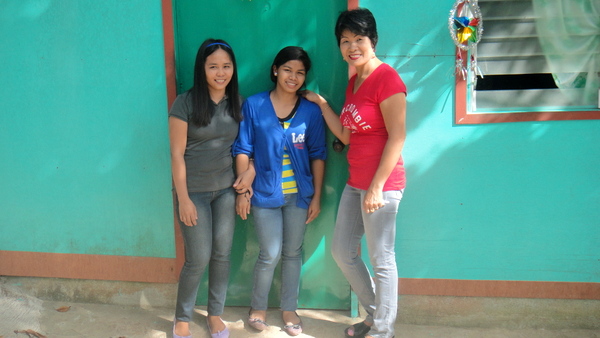 Providing cell phone talk and text loads for customers are a service that the majority of sari sari stores in the Philippines offer. After all, the archipelago is the texting capital of the world.
While we waited for everyone to arrive for the festive party, I took the opportunity to take a photo of my my lovely asawa (far right) with two of the partygoers. All of those in attendance at the event save my wife and I, have children enrolled at my sister-in-law's preschool located behind the main building of "The Compound."
Of course any celebration in the Philippines wouldn't be complete without plenty of Filipino food. Spaghetti (with sliced hot dogs, of course) was served in two large buffet trays. Lechon, rice and chicken were also on the menu along with cake and ice cream for dessert.
My brother-in-law presented me with my own pizza which went down pretty smooth with my cold bottle of Red Horse beer.
A series of games were held. I sat them out. I had to drink some more beer and my wife was on board with that thanks to a recent email sent to me by faithful reader Lance the Canadian.
Lance sent me an article which revealed in a controlled study that moderate drinkers (1-3 drinks a day) had a much lower mortality rate than those who abstained completely from alcohol. Surprisingly to me, even heavy drinkers had a better mortality rate than those who did not drink at all.
So I didn't refuse my brother-in-law offer to drink a few bottles of Red Horse that day (and even drink one over the limit, a fourth one, at the end of the party due to my relative's persistence. I didn't want to be rude.)
One of the Christmas party games involved two separate groups posing for different scenarios they were presented with. My wife and I were appointed as judges. One of my favorite parts of this game was when the two groups were asked to portray the classic Nativity Scene.
Here's one contingent's effort. Note Mary in the yellow shawl standing alongside "Baby Jesus."
The other group even had an "animal" in their portrayal and their own "Baby Jesus" but my spouse and I ruled this one as a "draw." It was too close for us to call.
Every Christmas party has to have a gift exchange and this one was no exception. That's my bottle of Red Horse on the corner of the gift table.
No celebration in the Philippines would be complete without some karaoke singing. After a couple of bottles of Red Horse, I was even persuaded to participate. My wife took a couple of pictures that were too blurry to publish and she didn't drink any Red Horse (she did however, have some kind of concoction called "Jungle Juice" and that wasn't a soft drink.)
Sister-in-law Alida is shown in this photo above. She's the youngest of my wife's large family and the director of the Guimaras Joyful Pre-School, Inc.
Here's our niece Michelle along with my lovely asawa. Michelle is living at "The Compound" helping Alida with the preschool.
And this is my mug along with Michelle who's giving me a big hug.
We had a great time at the party and were grateful for Alida and Joery to invite us. As regular readers of this website will know, I don't socialize much, and since moving to "The Farm" in Guimaras, we get out even less. But Christmas time is a good time to celebrate with family and friends. Next year, I'll be spending some time with my own Dad in Las Vegas after more than a four year absence from the States, but more on that at a later date.
So to my Dad in Vegas, his companion Jane and faithful dog, Sammy, and to all my faithful readers, I wish you a MERRY CHRISTMAS and a VERY HAPPY NEW YEAR. Thanks to everyone for all of their support this past year. Next year promises to be a big year with more details on 2014 and the future of Philippines Plus coming up.