Is the premier dating website, Cherry Blossoms, right for you, whether you be a single man or single Filipina? A recent remark by Lee, got me thinking. And that doesn't happen very often. "Dave, at this point I am a little nervous to unleash 'Baby Sister' on Cherry Blossom. She is 19 but she hasn't  'fallen off of the pineapple truck' yet, so to speak."  A previous post regarding this Asian dating site  has generated over 100 comments thus far and contains many informative remarks from readers that have used this dating website.
(Dark-skinned Filipina Morena beauty from Cherry Blossoms)
Lee is rightfully concerned about his 19-year-old sister-in-law, "Baby Sister," signing up with Blossoms.  While I encourage male readers to use this dating service, I wouldn't recommend it for all Filipinas, though my 19-year-old twin nieces, April and Michelle, have used it in the past.  
Michelle is avidly searching for an American or other foreigner she can meet on Cherry Blossoms (or Facebook) and is very serious about developing a committed relationship with one. 
While it's free for the ladies to sign up, some of the pretty pinays may be naive and too trustworthy.  In the Philippines,  many of the ladies are very innocent. Some are raised in rural provinces, such as our twin nieces, where cable or satellite (or even electricity) is a luxury many cannot afford.  Television and movie standards are very strict. They're not exposed to the steady diet of trash television and movies that's found in the States. 
I can assure you that "Dad" and their aunt, my wife, "Tita Daday," keep a close eye on the girls, not that we need to. But the two are absolutely clueless when it comes to more adult issues and that's entirely fine with us.  
While the Internet is not yet censored (a "Cyber Martial Law," which would jail those even "liking" a comment on Facebook some politician didn't like,  has been put on hold by the Supreme Court)  many of these girls are raised in a strict religious environment in this predominantly Catholic nation. Many are more interested in chatting with their Facebook friends and following their favorite K-Pop stars than exploring the dark side of the world wide web.  
There are predators, male and female, of course,   waiting to pounce on unsuspecting victims, on all these dating websites.  I would hate to see any of the girls that signed up for Cherry Blossoms,  or any other Asian dating service,  to victimized by some moron that only wants to use the ladies for sex chats or to ask them to undress on their webcam.  I am equally disgusted with the female (and lady boy)  gold diggers which are  also very prevalent. 
In full disclosure, I do earn a commission from guys that sign up for the premium paid services that Cherry Blossoms offers through any of the links and ads on my website, Philippines Plus.  But if anyone ever asks you for money, no matter what site you are using, DROP that person immediately!

You won't find any perfect dating website online. There are scammers on all of them. The majority of readers that commented on my previous Cherry Blossoms post had a lot of good things to say about CB,  along with a few warnings.
Michael S

. said: Cherry Blossoms is how i met my wife. First day i posted my profile i had over 100 messages from women. Lot of scammers on there so be careful. even with all the scammers still a good site.
Dave W remarked: I too met my gf on Cherry Blossoms. I received 100 emails and smiles the first day, same the second and the third, etc. Yes, there are plenty of girls on there you do not want but many sweet ones you do. Of course I am no longer active there, but I have several friends from my CB days, all of whom found Western bfs and fiancees.
Todd stated the following: I highly recommend Cherry Blossoms. I met my first fiance on that site and many terrific women. In the end run my ex-fiance and I breaking up had NOTHING to do with CB. I met my present fiance, the best women by far I have ever known and the love of my life, on CB. She is an angel if there are such things.

Cherry Blossoms has many many terrific woman. There are some scammers but they are so easy for me to spot.
And this from The Ice Man: I also met my wife through Cherry Blossoms, "a single blossom" as they used to say. That was in '97 when I had to purchase her address and actually write a letter. Imagine trying to purchase a thousand contacts and write a thousand letters! One had to scrutinize the magazine's bio's and photos carefully and choose a select few girls to write to. As it turned out, Vilma was the first and best reply I received, so we became pen pals for a year before I went to visit her.
John

remarked: 

Meet my wife there in 2008 and happy married up to now but before i got scam and there are still a lots of scammers. A scammer sending hundred and hundred smile can catch hundred of man that can send her money even if CB remove the profile after few days the scammers doesn't care because she is already chatting with her personal messanger and they do make a lots of money. And they go back again with an other profile and do the game over and over for years and years.
Gary Wigle posted this nugget of wisdom: Want to find a nice girl here in the Philippines? Look in church and then have Bob Martin's PI service check her out. Even if you meet them in person you really don't know who they are…
(Pretty Pinay from Cherry Blossoms)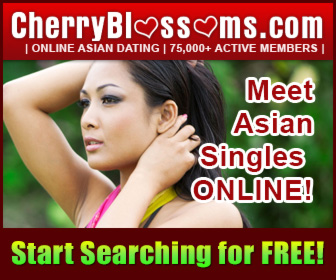 (Another Filipina cutie from Cherry Blossoms)
 (Beautiful Filipina lady from Cherry Blossoms)
That said, I would still encourage Filipinas to sign up for Cherry Blossoms but would advise them to first seek the advice and permission from a parent or guardian.  As far as the guys go, I think the majority of you will find this premier Asian dating site a good way to meet some incredibly beautiful, loving, loyal ladies from the Philippines.
(Filipina Island Girl from Cherry Blossoms)
Click any of the links or ads on this article (like the one below), or on this website,  to sign up today. Again, it's free to sign up. And if you decide to upgrade to one of their premium services, it does put a little extra change in my pocket. Of which I share half with my wife. After all, she's the one that does all the work around here. You can bet I don't.