Cute Filipinas from Iloilo City on an island hopping tour off Guimaras.  Though I recently posted an article on this topic last month, I didn't think my readers would object to more pictures,  courtesy of my niece,  April.  That's her in the following photo, far right, next to the pretty pinay in blue.   
Some of April's co-workers from TeleTech had decided to visit Raymen Beach, our favorite Philippine resort in Guimaras. The crew went on an island hopping tour which inspired our niece to pay for our family's own adventure when we visited Raymen for a birthday bash held in May.
April is no longer employed with TeleTech, a call center located in Iloilo City and throughout the Philippines, but has a new Business Process Outsourcing (BPO)  job with a firm called Avatar. These pictures were taken while she was still employed with  Teletech. After the call center job, my niece had a brief stint teaching English to Koreans but recently landed the new BPO gig. More on that in a future post. 
Of course, April has to strike her favorite pose in the picture above.  I can guarantee you that when any photo opportunity presents itself to her, you'll see my niece  doing this.  According to her, it's supposed to mean "cute." I have a different opinion.
Another look at the cute Filipinas (and one guy) posing on their Guimaras island hopping tour.  The friends had the weekend free and took the pump boat from Ortiz Dock in Iloilo City to Jordan Wharf. 
Hop on the jeepney from the wharf to San Miguel, at "The Crossing," and you can catch a jeepney for P20, 47¢,  to Alibihod, where  Raymen Beach Resort is located, sandwiched in between two other popular beaches on the island.  Much cheaper to take the jeepney. Renting a multi-cab will set you back P450  (10.64 US Dollars) one way, P900 for the round trip back to the Jordan Wharf. 
But don't let any of the drivers try to scam you at the Jordan terminal. The rate is fixed. I've had one driver tell me that  the price depends on the amount of passengers. It doesn't.
Any problems, find the head Jeepney dispatcher, my friend, Bintoy.  He's posted near the entrance to the jeepney and multi-cab passenger pick-up area.  That's him in the next picture, along with a friendly goat. 
Some extreme posing  was done in this shot near  Baras Cave. Looks like everyone was having a blast on their island hopping tour.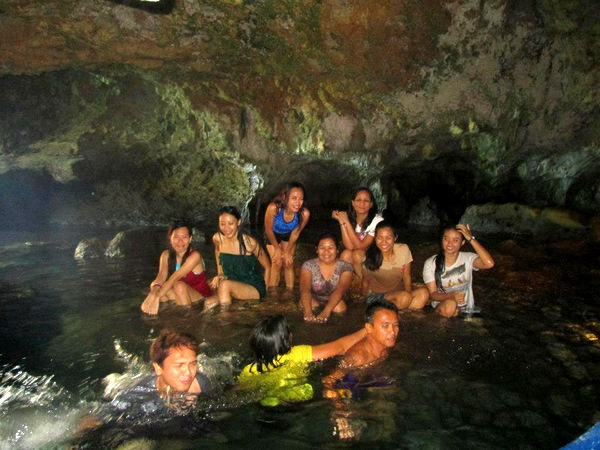 April's friend were enjoying a swim in this underwater cave.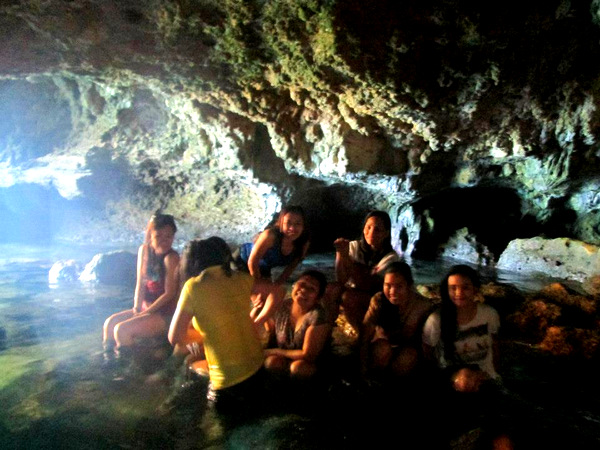 Good place to escape the summer heat.  PAGASA, Philippine Atmospheric, Geophysical &  Astronomical Services Administration, announced that a potential LPA  (low-pressure area) will enter the PAR (Philippine Area of Responsibility)  soon and trigger the southwest monsoon season. 
A report in the Inquirer News, May 31, 2013 online edition,  stated that temperatures were starting to cool as  the rainy season approached.
Per PAGASA, in Metro Manila, the highest temperature  last Thursday was recorded at 29.2 degrees Celsius (84.6 F) at 8:30 a.m.
The highest temperature for summer this year in Metro Manila was recorded at 36.6  degrees Celsius (97.9 F) last April.
But Alvin Pura, weather forecaster of Pagasa, said the easterlies was still the prevailing weather system. The easterlies is the weather system for summer.
He said the rains experienced all over the country is only part of the transition to the rainy season.
The southwest monsoon or hanging habagat is the dominant weather system during the rainy season.
Pura said the rainy season may be declared as early as the first week of June provided the criteria for the rainy season have been met, which includes a  rainfall of 25 millimeters over five days, with three successive days of at least 1 millimeter of rain.
Believe me, I'm more than ready for the monsoon to kick in. Dealing with the heat in the summer months of the Philippines is always a difficult time for me. Though I've become more acclimated to  the heat and humidity somewhat since retiring to "paradise" almost four years ago, I still dread the summer months and always look forward to the rainy season.
April is back in this shot with her former co-workers. While you might encounter many Filipinas that tell you they are  shy, this particular group doesn't seem to fit that mode.  But they were probably in a festive mood. What could be better than heading out to the beach and going on a relaxing island hopping tour? As my friend Gary Wigle (and the Philippines Tourism Department) is fond of saying, "it's more fun in the Philippines."
Climbing the stairs at the Lamurawan Beach Resort and Renewal Center of the Estoy-Gedalanga family in Guimaras.  According to my asawa, the center is operated by a group of nuns.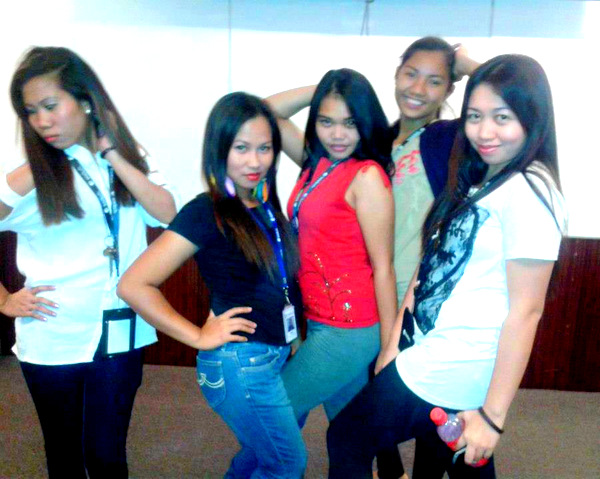 I'll close this post with a picture of my niece with  some of the former crew back at work. These cute Filipinas do like to pose, didn't they?  But I doubt that many of my male readers really mind, do you?