No series of articles about the Manggahan Festival, held last April in Guimaras, the sweet mango province, would be complete without a post that featured my American expat friend, The Tom Cat, aka "Brother Tom."  Tom, a bona fide Renaissance Man,    is dating LenLen,  one of my asawa's countless relatives in the Philippines. 
This post's first photo features one of my comrade's favorite beverages, San Miguel Pale Pilsen, which has to accompanied by a bowl of calamansi according to my American amigo.  Tom squeezes calamansi juice into each bottle for a shot of extra flavor. My chum also shoots a shot of this small lime into his  Gold Eagle Beer. 
Planned to meet my tall, lanky vegetarian friend at  Lisa's Talabahan at their Manggahan Festival location.  I arrived early and decided to quaff a brew or two.  Told the crew I was waiting for "Brother Tom."  They brought out the calamansi with my beer.  Tom is a regular at Lisa's main venue. 
The Tom Cat came prepared. He brought along his own bag of ice and ice pick. We both enjoy the food and friendly service at our favorite eatery in Guimaras, but cold beer is not something they excel at. Tom, to no avail, has been trying to get the owner to purchase a new cooler.  
The lovely LenLen joined us later in the afternoon. That's her in the next photo.
The pretty pinay had a special sweet treat, pictured below, which consisted of corn, sugar and Alaska brand milk.  Sweet corn on the cob was one of my favorite treats during the summer back in Illinois, but I passed on this concoction. 
Lisa's staff kept us entertained. Here's a couple of their  children dancing. Cute kids.  The talabahan is a family operation.  Tom informs me that there is a  pregnant relative in the clan. This assures a steady stream of future workers for the restaurant.   
Later in the evening, Tom decided to look for used clothing. Vendors had set up shop outside of the Manggahan Festival.  While my expat friend was hunting for a bargain, I needed to pee but witnessed workers exiting the comfort rooms wearing masks.  That's not a good sign. Plus, there's only one restroom building on the whole festival grounds. Won't find a porta potty here.  I walked about a half block away and found a somewhat secluded spot to take care of business. 
My American amigo had found a sporty Hawaiian number. Shirt, that is.  Too flashy for me, but it would suit The Tom Cat just fine.  Tom planned to visit the local Guimaras tailor, where it only costs P20, 46¢,  to hem a pair of blue jeans.  He wanted the shirt tailored to his exact specifications.   The guy is way too stylish for me.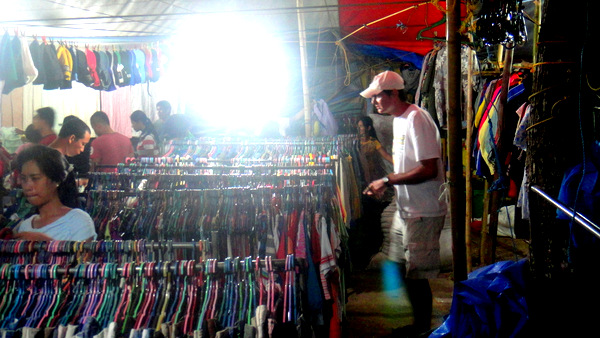 Later in the week, my asawa joined Tom and I in a visit to the Manggahan Festival. We stopped at the local Ati tribe booth to purchase an expandable bamboo back scratcher for P40. I could have saved 5 pesos and bought the 35 peso model, but it didn't expand. 
The above picture shows what the back scratcher looks like when it's closed. That would have been too short for me to use. My asawa suggested the purchase of this valuable tool since it annoys her when I rub my back like a dog against our refrigerator to relieve any back itch.
Here's the miracle device fully extended. For only five pesos more, how could I pass up this bargain?
The bamboo Ati backscratcher in action. 
Here's a picture of the friendly filipinos at the Manggahan Festival who are responsible for my new toy.  The Ati are a Negrito ethnic tribe located in Western Visayas, the central region of the Philippines where we reside. According to Wikipedia,  they are genetically related to other Negrito ethnic groups in the Philippines such as the Aeta of Luzon, the Batak of Palawan, and the Mamanwa of Mindanao.
The group had a wide range of handcrafted products on sale. The lady in front was quite the sales person and not at all shy.  
I had already paid two visits to the Manggahan Festival's Information Booth, shown above, and both times no one was manning the booth. So after my purchase from the Ati tribe, I decided to check out the  information booth with Tom. Still no one on duty.  We both decided to pose for the  picture taken above by the Official Staff Photographer of Philippines Plus, my asawa. 
Though my American expat friend was reluctant, I pressed ahead and decided we should stay at the booth and ask approaching festival goers if they had any questions.  I didn't want to wait for someone to stop, being the impatient American I am. I also had consumed a "few" bottles of Pale Pilsen.  I shouted out to a young Filipino in his early 20's who was passing by.
"Sir, sir, do you have any questions for us? We're working the information booth," I quizzed the poor guy. He shyly shook his head "no" and briskly moved away.  After that, I decided we should abandon our post in case the PNP, Philippine National Police, patrolling the festival, decided to check out these crazy kano's. 
The next day I visited the Information Booth again and found the staff on duty. To my surprise, Cinderella (yes, her real name), pictured on the left, was one of the crew. My asawa and I had met Cinderella at last year's Manggahan Festival where she was partying with a group of Peace Corps volunteers that used to live in Guimaras.  The Peace Corps contingent's contracts have ended and they have left the mango province.  A friendly bunch that loved their Red Horse. 
I informed Cinderella of my stunt the night before with Tom. She took it OK. The booth only kept limited hours during the Manggahan Festival and my three previous visits occurred during the off time.   
A few readers have asked what my American expat friend, The Tom Cat, has been up to, aside from drinking beer with other expats. He's still living in Guimaras and has established a graphic design business. He's partnered with a Manila business contact and has been designing labels for various products. He's gotten several jobs from this venture and hopefully his business will grow. Check out his design website at this LINK.
My American expat still does some occasional work for the Trappist Monastery, which is located on the island, but has scaled back some of the duties he used to perform there as a oblate, lay person.
It was a pleasure hanging out with Tom and hope to see him around at next year's festival. Maybe even "Fearless Frank from Florida" will return and join us. I believe Papa Duck and Anne, regular readers and supporters of this website,  will also be on hand for the festivities. My asawa and I are both looking forward to that. It's always a party at the Manggahan Festival in Guimaras,  proving once again,  it's more fun in the Philippines!