I'm gearing up for the biggest party in Guimaras, my wife's home province.  The 20th Annual Manggahan Festival. The festival was first held on May 22, 1993 to commemorate the first anniversary of Guimaras as a full-fledged province. It's a week-long celebration to honor the sweetest mangoes found in the Philippines and throughout the world.  As an American expat living in the Philippines, this will be my fourth visit to this shindig.  My asawa and I are spending six days in Guimaras this year for the occasion and not the usual one day.  Joining us will be the province's  original party animal, the Tom Cat (that's him at last year's gig onstage with a cute Filipina band member.)
I will be on vacation (not that I do much anyway.)  I won't be updating the website or responding to any remarks until I return.  I could spend P20 an hour to use the local Internet cafe and access my site. But like I said. I'm taking a vacation in the Philippines.
There will be live bands every night this year and plenty of bottles of San Miguel Pale Pilsen. If you're in the area and recognize Tom or I, feel free to stop and say "hi." Neither one of us bites. (Well, I don't. Not absolutely sure about Tom, however. Make sure you have your rabies shots updated.)
While in mango land we will probably stop by The Shirven Hotel and enjoy a plate of my favorite fish and chips in the Philippines. My asawa and I dropped by there when we attended the 3rd Recognition Day at the Guimaras Joyful Preschool our niece JalAmiel attends. That's her in the next picture, all decked out with her medals and awards. Took this shot on the beautifully landscaped grounds of The Shirven. 
On a more serious note, we'll also be looking for a qualified caregiver to watch over Lolo. My asawa's father has been found wandering alone at nights and carrying on conversations with an imaginary girlfriend, Pearly. It's not safe to leave him alone anymore and we're hoping to find someone to take care of him on a full-time basis.  However, he has left "The Compound" where my sister-in-law was watching him. He demanded to return to his home. He did. Hopefully we'll be able to locate him when we arrive in Guimaras on Sunday. 
That's me, Uncle Dave, seated next to my little niece. The official staff photographer for "Philippines Plus," my asawa, took this picture. 
The next photograph was snapped by the owner's son. Friendly guy. 
Maricel, seen in the following photo taken two years ago, is still on the staff at The Shirven.  Mae, her former co-worker,  has left to work in Egypt as an Overseas Filipino Worker, OFW.
My favorite fish and chips in the Philippines. Two huge hunks of deliciously battered fish. My only request would be to add more "chips" or fries to the dish. And a side order of cole slaw would go very well with this. 
Located across from the hotel, I spied this new Church of Christ building. The bright yellow bamboo fence and star are certainly  attention grabbers.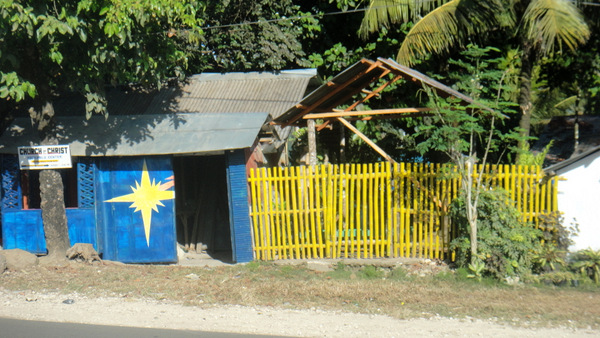 We stopped by Cousin Emma's Jade Market located near "The Crossing" in San Miguel, Guimaras. Spied Emma's daughter sweeping and noticed they have a new grill set up outside. With school kids now on summer vacation and the Manggahan Festival, this could generate even more income for Emma's store. She also owns a Hollow Block factory. 

I would be remiss if I didn't include a photo of "Fearless Frank from Florida," who was visiting his longtime friend, The Tom Cat, in Guimaras last year. Had a great time hanging out with Frank and sorry he won't be able to be at this year's Manggahan Festival.  We'll miss him. 
So come on over to the 2013 Manggahan Festival! Biggest party of the year. Lots of fun. Plenty of live music with bands like the one shown in the picture below. It's a great way to spend some time in the Philippines and I'm looking forward to it. Come on and join us this American expat and his lovely asawa.  Plenty of friendly Filipinos and cold beer. And some of the sweetest mangoes in the world.