Another graduation day in the Philippines in Guimaras, the sweet mango province.  This time the graduate is our five year old niece, JalAmiel. That's her standing directly in front of her Mom, Alida, who's located in the center of the Guimaras Joyful Preschool sign in the following photo.  My sister-in-law has tripled the enrollment during the third year of her academy. She now has a total of 30 students. The school offers nursery classes through kindergarten.  
The event was held in an air-conditioned room that is part of a government complex in San Miguel, Jordan municipality in Guimaras. It was the Annual Third Recognition Day for the Guimaras Joyful Preschool previously known as the Guimaras Joyful Noise Learning Center.
The first year ceremonies were held at The Shirven Hotel in San Miguel, but the hotel wanted P5,000 (122 US Dollars) to rent a room with aircon.  The cost for the air con room shown in these photographs was P1,500, 37 USD. Quite a difference in price for similar facilities located just a few blocks from each other. 
Though my sister-in-law has taken the "noise" out of the school's name, still plenty of "joyful noise" to go around before the program started. A group, comprised of several boys, were playing at the  front of the room and were quite loud. They were just being boys, of course. Having two younger brother myself growing up I realize there is going to be some commotion.
Alida and her staff were busy preparing awards and sorting medals that were going to be presented to the pupils. But after about 15 minutes of the ruckus, I pulled our nephew Jorreal, who is not in the preschool but had to join in horseplay with the other boys,  of course, out of the group. Had him sit next to Uncle Dave and his Tita Daday and instructed him to be quiet. He was. A few other parents did the same with their offspring.  Keep in mind that I'm a grumpy 61-year-old geezer.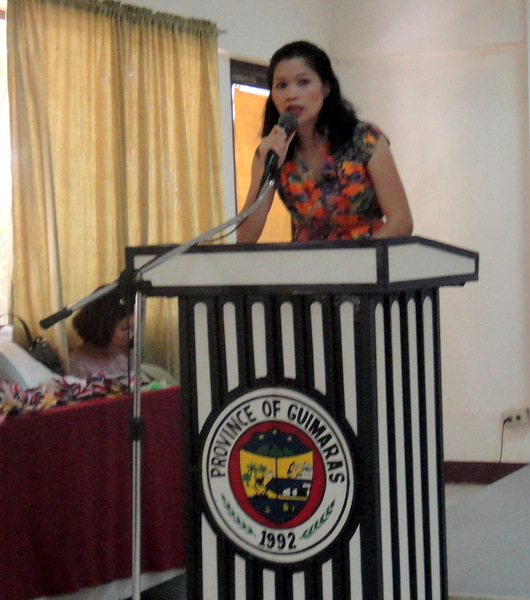 The stage was eventually cleared of the kids that were playing up front and Alida, the Administrator and Founder of the preschool,  kicked off the ceremonies with a brief opening address. Next up was the kindergarten class with a special prayer number. Things were kicked up a notch with the next presentation, a dance routine done to the annoying Gangnam Style song. Their routine was high energy and entertaining. Our niece, who is taller than her classmates, was relegated to  the back row. 
My asawa and I  were announced as special guests to the audience. Taking my cue from celebrities at Academy Award shows, I rose halfway up from my seat, turned and gave a small wave to the crowd. The Sainted Patient Wife followed suit. We were instructed to sit in the front row as we were asked to pass out diplomas to the children, as shown in the next shot. 
If you've never spent any time in the Philippines such as this American expat and others, you might find it hard to believe that an everyday average "Joe" can attain celebrity or even rock star status in this archipelago.  After residing in the Philippines for almost four years now, I can tell you that as a foreigner you will garner a lot of attention here.  Some of it positive. Some of it unwanted. 
Alida gets ready to pass out another award to her daughter JalAmiel as Tita Daday (my asawa) prepares to place it around our niece's neck in the above photo. Tita was happy to buy a new dress and shoes for our little niece. Amiel loves to get dressed up for special occasions and this event gave my asawa an excuse to go shopping at SM City in Iloilo…again. 
JalAmiel received medals for Outstanding Student, Outstanding English and Outstanding Filipino. She also received non-academic awards for "Most Obedient" and "Most Behaved." It should come as no surprise to any of my readers that the majority of the girls in the preschool received awards for "Most Obedient" and "Most Behaved" while the majority of the boys received honors for "Most Energetic." My sister-in-law is quite the diplomat. 
Officers of the PTA, Parent Teachers Association, were also on stage to help pass out the non-academic prizes. Alida's husband, Joery, shown 2nd from the left in the next photo, also helped out along with the officers. Lola (grandma) is also in the picture,  shown standing next to our niece.
Alida along with more PTA officers and pupils from Guimaras Joyful Preschool.
Next up is the family. From the left, my lovely asawa Melinda, Lola, Niece Den Den, Alida and Papa Joery.  JalAmiel and brother Jorreal are in front. 
I'll close this post with a couple of photos of "The Kano" standing behind the podium and hamming it up. Notice the guy on the right trying to run away. Can't blame him. Brother-in-law Joery is in the background, on the left,  probably wondering what his loco loco American expat brother-in-law is up to. 
My asawa cut my head off in the next shot but I figure it's better than getting a certain favorite part of my anatomy sliced off. Congratulations to my niece JalAmiel and all the students of the Guimaras Joyful Preschool. Kudos to my sister-in-law Alida. She's doing a tremendous job with her young pupils and puts in a lot of hard work and long hours to make the school a success. I'm positive the school has many more productive years in its future. 
Alida is living proof that in the Philippines a person can overcome the odds and become a success. She's making a living doing something she is passionate about. You can't beat that no matter where you live.