My asawa and I moved to the Philippines in July 2009. We had an unwritten five year plan before moving to "paradise." We're approaching the final phase of our retirement manifesto. In about one year from now, February 2014, every thing kicks into high gear. Our income will more than double. We'll be buying property for our dream home in the Philippines then and in late 2014 we plan to move into our new residence in Iloilo City (the new house could look similar to the home depicted below.)
The five year plan began April 2009. That's when I retired after almost 30 years of working at telecommunications giant, AT&T, at the tender age of 57. That was officially Phase One.  My spouse will verify that I've not worked a day since. I have one chore that I do around the house: filling up the water barrels and buckets in our CR, Comfort Room, every Tuesday, Thursday and Saturday.  No running water at our enclave at Savannah Subdivision, though it was promised in March 2012. All we get are excuses from MIWD, Metro Iloilo Water District, which strictly adheres to Filipino Time.  You adapt. You have to if you want to survive as an American expat living in the Philippines. 
Phase Two of the plan involved selling our house in Auburn, Illinois (see next photo.)  Fortunately we sold our home in May 2009, less than one month after my retirement. Phase Three involved our actual move to the Philippines. My wife was firmly against moving back to Guimaras, her home province where she already had a lot and home that was paid for.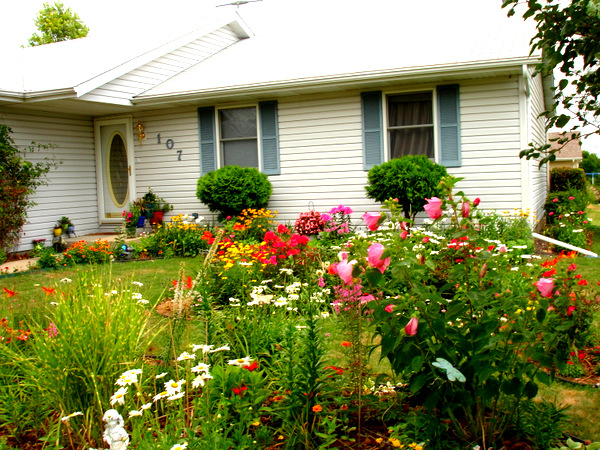 My wise asawa knew that there would be problems with relatives on the island coming over to the "rich kano's" house looking for "loans" that would never be repaid. But I convinced her that if we were going to support her Mom and three nieces and a nephew that would be living with us, we needed to live in a place where we had no house payment.  We wavered from that part of the plan as we moved to our current rental home in Iloilo City in October 2012. But with rent for our three bedroom home at 140 US Dollars a month, we're doing OK. 
Our house in Guimaras
Phase Four involved living in the Philippines until I reached the age of 62 in February 2014 and my Social Security kicked in.   So now I'm counting down each month before I make that trip to the Social Security office located at the U.S. Embassy in Manila. I can't wait. Our income will more than double then. 
Six months after I start collecting my Social Security we will be able to access my retirement funds I invested from AT&T without an additional 10% tax penalty. We will then take out the necessary cash to buy three lots, totaling 1,000 square meters and build our dream home.  Our goal is finally in sight. 
Please bear with me for the next 12 months. You'll be seeing more details on our search for our new property and the plans for our new home in the Philippines. I'll try to be as detailed as possible for those who may plan to do the same. I won't get into the debate on whether it's better to rent or buy property in the Philippines. We will be fortunate to pay for everything in cash. No loans at the inflated interest rates here. No monthly mortgage payments. 
What about taxes? We'll have to check that out. My asawa just paid her yearly tax bill in Guimaras for her home and 240 square meter lot. Since the property is located in what is considered a business district the taxes are higher. She sent our niece, Michelle, who lives with us, to pay it.  How much? P1,300 pesos for the year. Around 31 US Dollars. We should be able to handle the higher tax bill in Iloilo without any problem.  
It's good to see the end in sight. We would not be able to retire as comfortably in the United States. And we would not be able to  build the house we're planning to live in that we plan to have built in the Philippines. That's the home we plan to live out our retirement years in.  I am indeed a fortunate man. I have good health.  Great surroundings. And most of all, a loving, supportive and beautiful Filipina wife.  And no snow to shovel, my Midwestern friends.