Had the pleasure of meeting, Allen, a young man, 28 years old, who came to visit Iloilo City and Raymen Beach in Guimaras recently. I'm very impressed by this youthful entrepreneur, who spends six months of the year in Vancouver, Canada, and for the past three years has spent the other six months of each year living and traveling in the Philippines. Your first question might be: "How in the world does he do it?"
Allen makes his living working as a online marketer for nightclubs. His job involves some traveling and doesn't require him to sit in a cubicle at an office all day. That's him sitting next to me in the first photo as we're taking a pump boat to Jordan Wharf to visit my favorite beach resort in Guimaras, Raymen. And if you think the lady seated next to us is napping, she probably is. It's amazing how many Filipinos can sleep on noisy pump boats and jeepneys, but they do.
Allen is Half Pinoy–Half Canadian. Born and raised in Eastern Canada, He moved to Vancouver in 2001. He also has his own website, "See My Philippines," a photo and video guide. I encourage you to check it out, lots of great pictures, and it will keep you updated on Allen's adventures in his mother's homeland, the Philippines.
Here's a photo taken by my asawa. That's our niece, Shina, on the left and her brother, our nephew, Sharwin. Sharwin "gets" to carry his Tita's (aunt's) fake leopard spot beach bag. Allen graciously paid for the multicab and for our meals at Raymen Beach, not to mention a recent excursion to The Moon Cafe in Iloilo City where he picked up our tab. A very generous guy.
Jeff, the self-proclaimed "Crazy Cano," joined us on "The Moon." and remarked on Allen's quiet confidence. Our trio of guys, along with my asawa and our niece and nephew, were invited to Jeff and Rose's (his spouse) place afterwards.
We had a great time and enjoyed a "few" more adult beverages. I devoured a very tasty cheeseburger prepared by Rose and washed down with a cold bottle of San Miguel Pale Pilsen bought and paid for by one of our favorite expat couples. Rose operates a sari sari store at their residence. Jeff makes sure there is always plenty of beer.
Allen, along with my asawa and niece and nephew went out for I swim at this beach resort in the Philippines. Since I can't even swim, let alone float, I managed to pass the time taking pictures such as the one shown next.
It's a rare shot, Filipinas on the beach with a bikini top, not something seen often in the Philippines, at least not in the Western Visayas region where we live. Most pinays will wear one piece outfits or more often than not, go wading in the water with t-shirts over their swim tops and splash around with shorts or jeans on.
Allen later remarked that he has never been on any beaches like the Philippines where the women dress so modestly. He's been all over South East Asia and the world, and the beach fashion the pretty pinays were wearing was something that caught his attention, too. The next picture is some of the usual attire you'll see here.
Our lunch arrived promptly at 11:30 am as requested, and the BBQ chicken was very tasty. Thoroughly enjoyed it. Had the sweetest mangoes in the Philippines, Guimaras mangoes, for dessert. The bill for all five of us, including our beer and other drinks, totaled around P1300, around 30 US Dollars. Again, Allen footed the majority of that bill along with our other major expenses for the trip. I highly recommend eating at the canteen at Raymen Beach. Friendly staff. Good service. Very reasonable prices.
Spent a great afternoon chatting with Allen. We only consumed three bottles of San Miguel Pale Pilsen each throughout the whole day. I drank Coke and my much younger friend wisely kept hydrated with water. After an afternoon swim session, our driver returned to take us back to the Jordan Wharf for our voyage home back to Iloilo.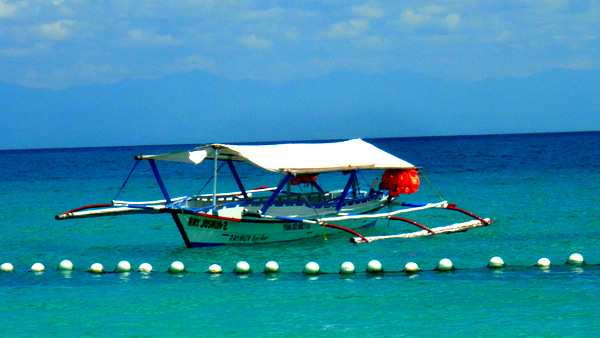 Thanks again to Allen. It was a privilege meeting him. I have to admire him for achieving so much at such a young age. How many of us at the age of 28 wouldn't have wanted to spend half of our time in the Philippines on tropical beaches filled with cute Filipinas? He's savoring every moment and enjoying life to the fullest. Smart man.

(Editor's Note: Due to "technical difficulties" this story, posted several days ago, had to be re-published. Unfortunately the previous comments were all lost. My apologies to those that had left comments, including Allen.)