Recently celebrated a trio of birthdays at a Philippines resort about a 30-minute ride from our home in Guimaras, the Cabaling Beach, a tropical beach located next to the Cabaling Resort in Espinosa, Jordan municipality. Was quite a bumpy ride via the multicab we hired from our neighbor at the princely sum of P900 (negotiated down from the original price of P1,000, 23 US Dollars) I wondered why the fare was so high since we had hired the same vehicle before to go to Raymen, another Philippines beach, for P700, which was about the same distance. "Bad roads" was stated as the reason for the more expensive fee, and "bad roads" are as common as 12 kids in a family in this predominantly Catholic nation.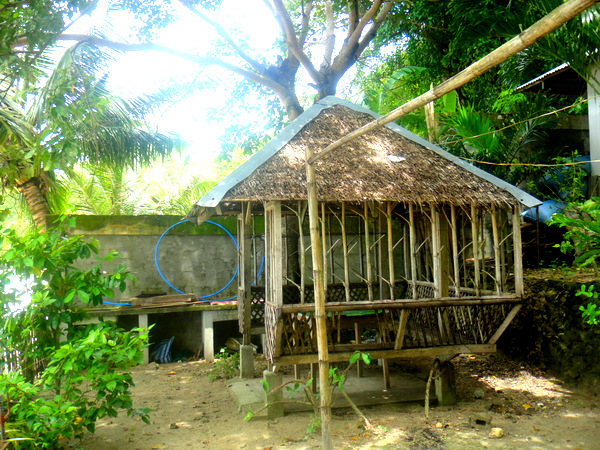 After a jarring ride through Espinosa via a narrow avenue of unpaved road, it's a good thing our vehicle had good shock absorbers. I've been on numerous bumpy roads in the two-plus years we've spent in the Philippines, but our trek to this Philippines resort, that we had never visited before, produced one of the bumpiest rides we've ever experienced.
Drew quite a few looks from the residents whose homes lined the challenging passageway to this tropical beach resort as I sat at the rear of the multicab. Everyone in our birthday party, The Sainted Patient Wife, sister-in-law Alida and brother-in-law, Joery, along with all the kids, were quite happy when our driver finally reached our destination. We all arrived shaken up but in one piece.

Our driver got out, and we left our vehicle and stood around trying to locate the nipa huts that we could rent for 300 pesos (6.90 US Dollars) apiece. One of the parents of a student at Alida's preschool had told us about this beach that was located near her residence. There was no entry fee as we had encountered at another Philippines beach, Raymen, and is not to be confused with the adjoining Cabaling Beach Resort which we understand does charge an admission fee and offers facilities for those wanting to stay overnight.
After a few minutes, the aforementioned parent arrived, and she directed us to the nipa hut we would be spending most of our day in. That's my asawa on the left with the strange expression on her face. I think I caught her off guard. Her sister, Alida, is standing next to her. Joery is to the right standing up and heaping some spaghetti on his plate interspersed with hot dog slices, a staple in many Filipino spaghetti dishes. I pick mine out. There are some food combinations that are just unnatural to me. Like chunks of sweet potatoes my asawa mixes in with tapioca pudding. I pick those out, too. Don't tell my wife.
Everyone had skipped breakfast as our preparations for this tropical beach ran past our appointed departure time keeping intact the tradition of Filipino Time, but since we left our home 30 minutes later than the planned, we didn't miss our earlier goal by much. Cousin Emma and her crew were going to join us later after they closed their market around noon. In true Filipino fashion they arrived over two hours late, and since they were furnishing our San Miguel beverage products. I had to settle for Coke and Sprite and tubig (water) until their arrival.

The sky was overcast most of the day, so the pictures I took of this Philippines resort do not have the bright sunshine that I prefer. There were several other huts on the beach, but aside from some locals that walked back and forth from their nearby homes, and occupants of the rooms at the nearby Cabaling Beach Resort (see next photo), we had the place to our selves. The water was dirty as was the beach and did not match the quality of the white sand and turquoise blue waters of Raymen.
However, the conditions of this tropical beach did not deter our nieces and nephews that we brought along from playing in the water and the sand and having a great time. It was quite windy, and the kids had fun jumping over the small waves. A small fishing boat can be seen in the background of this photo, and is featured in the following one. The mountains on the horizon are located on nearby Panay Island, home of Iloilo City where we do the bulk of our shopping.
My wife, her sister and my brother-in-law had left to visit the home of her manicurist/pedicurist who lives nearby as I'm left watching the kids from my nipa hut perch and wait for the butterfly pork chops to go on the grill hoping that Cousin Emma will soon arrive with the San Miguel products. I don't swim at all so I've been amusing myself by taking pictures (which is really the job of my chief staff photographer, my asawa.) The crew has been gone over an hour now, it's approaching 12:30, and I don't know where the charcoal for the grill located outside of our nipa hut is.
Guess I'll just have to be patient and enjoy my time on this Philippine resort this lazy Sunday afternoon. There's definitely worse things I could be doing, like working back at my stressful job back in the States. Retirement in the Philippines. It's a tough job, but somebody's got to do it!