Had five hours before we could see Dr. Jacobo in Iloilo City who would interpret the results of a recent blood test and ultrasound my asawa had gotten done at a healthcare clinic in Guimaras. We didn't have an appointment, which is a common practice in the Philippines, but at least we could spend the time doing something other than waiting all day in a physician's office. Decided to roam Robinson Mall in Iloilo instead of our usual haunt, SM City. Only had been to Robinsons on one previous occasion since moving to the Philippines over two years and wanted to try a new shopping location.
The Sainted Patient Wife posed for a picture near the fountain located in the center of this Philippines mall. My asawa stopped at various women's clothing shops as I hovered outside. Shopping for ladies attire is not one of my favorite pastimes. Don't get me wrong. I dearly love spending time with my wife, but walking around some mall where 30-50% off signs beckon bargain hunters is not an activity that really excites me. I put it right up there with watching paint dry on a wall.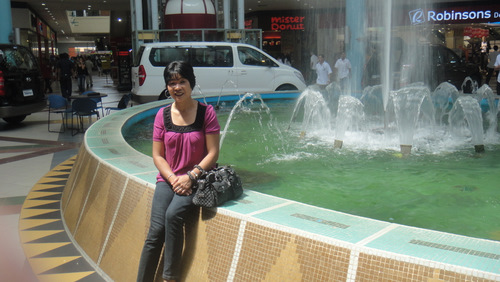 My wife misses her Filipina shopping buddies from America, and so do I. While I could stay home and spend countless hours on the sofa playing my favorite video games and chomping down on Tombstone pizzas while she spent a whole Saturday with her amigas, I now have to pretend to be enthused about giving my approval on some pair of shoes my spouse has spied in some shoe shop window. Let me tell you, I give an Oscar-winning performance almost every time!

Now I don't have anything against Robinson Mall, at least the air con cooled me off better than our initial visit there, and the three levels did offer a variety of shops not found at SM City, I just didn't feel like roaming around for five hours. The Robinson Cinema did not have a great line-up, but I was so desperate for a break from purses and shoes, that I choose "Bad Teacher," which turned out to be a fairly bad movie. However, for only 120 pesos (2.75 US Dollars) a ticket, it was probably cheaper to keep my asawa occupied with this activity than succumbing to the siren sale songs of the mall.

Went into the Robinson Supermarket after the movie, and my asawa was impressed by the poultry department show in the picture below. Now listen, I love chicken just as much as the next person, but I couldn't match my spouse's enthusiasm. However, it did beat standing around those aforementioned shoe and purse shops. And it definitely was more pleasant than waiting for ultrasound and blood test results in some healthcare clinic.

Looked like the Robinson Supermarket had some items priced lower than the SM City Supermarket, our usual stop for groceries. We'll probably be visiting there next time we do our monthly shopping trip in Iloilo City. Until that time maybe I can whip up some more enthusiasm about chickens, shoes and purses. But I doubt it. But sharing some San Miguel Pale Pilsen with my expat friends at The Moon Cafe? Now that's a whole different story!