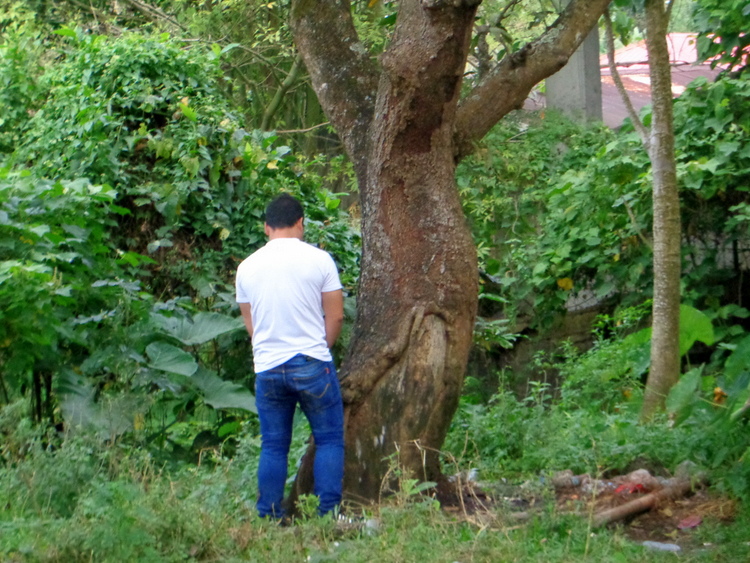 Thankfully I don't have to be politically correct in my blog, because I don't know that it is PC to write about peeing. I'm talking about peeing in public, here in the Philippines. As I have said before, I just try to observe daily life in the Philippines from my viewpoint. I write about. That's it.



Peeing in public here really came to my attention about six weeks or so ago. My twin nieces and I were taking a walk to the nearest Internet cafe here in Guimaras since my 60 ft broad ban tower had not been set up yet.

We take a short cut behind one of the buildings leading up to the Internet cafe, and there was an old geezer peeing in public on the side of the building. I was a bit taken aback with this since it was broad daylight.

Now don't get me wrong. I have seen peeing in public back in America before ( remember Billy Carter?)

Most of the time it involved late night drinking and peeing in a dark alley. I remember one time on the way to Montana with my friend Rocky, when I pulled off the road in the middle of the night, and took a pee. Have you ever been on a Montana interstate in the wee hours of the morning? If so, you know there is not much traffic out there, and you could be hours from the next town or rest stop.
To Pee Or Not To Pee
But I thought it a bit much to have this going on in front of people, especially my nieces. But they really didn't think say anything about it, and it didn't seem to upset them, so I thought OK, just go on to the Internet cafe.
About two weeks later Sainted Patient Wife Melinda and I are eating pizza and chicken and spaghetti at a local place in Guimaras right on the main road called the "The Crossing."
I see a motorcycle rider get off his bike across the street from us, and with his back to us (thankfully), pees as he stands just about a couple feet off the road. We're talking about traffic, people going by, it's noontime!
I say something to the wife. She says it's no big deal. All the guys do that here.
We go home and I ask my sister-in-law (since she is a teacher but I guess that doesn't make her a pee expert) if it is against the law to pee in public here.
In the country (which Guimaras qualifies as since it is a rural province) it is OK, but in a big city like Iloilo where we go shopping, it is against the law.
Public Male Urinal in the more civilized Iloilo City
So later my 3 year old nephew Joriel goes outside from his nipa hut (no bathroom there) and pees on the side of our house (I guess just to follow in the footsteps of his elders.)
What the heck! He's only three. And we're in the Philippines. Always an adventure. Never dull.